Dumpster Rental Sizes Near Me
When you need a dumpster to hold the debris from your clean-out, trash from your remodel, or junk from your downsizing, you want to make sure you don't run out of room. Rent a BLU Dumpster, just the right size for all your clean-up needs.
Rent a Dumpster Near Me
You might look for a 10-yard dumpster, 20-yard dumpster, or 30-yard dumpster as you hunt for a receptacle to handle your home clean-up, but what's really the right size for your stuff?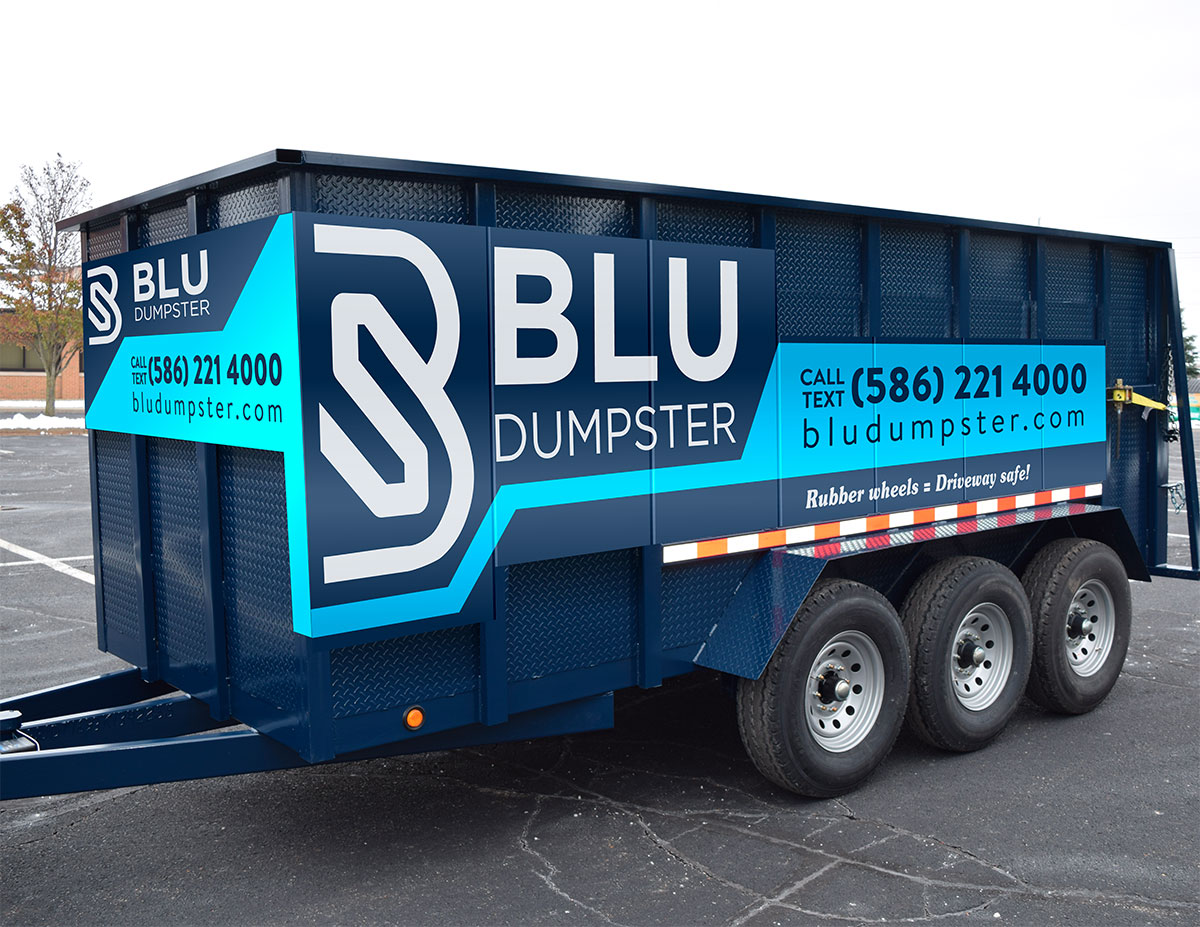 Here are some things to consider and questions to answer before you search for "rent a dumpster near me":
How much do you really have to throw away?
Are you tossing dozens of garbage bags or do you have furniture or reno materials?
Is a 10-yard dumpster big enough?
Can I fit everything in a 20-yard dumpster?
Is a 30-yard dumpster too big?
Do I have room to park a giant dumpster in my driveway or by the curb?
Will this dumpster be an eyesore?
You not only want a dumpster in the right size, you want one that looks nice too.
An attractive dumpster? Is that possible? You bet.
Benefits of Rubber Wheel Dumpsters
BLU Dumpsters sizes are designed to keep your neighborhood looking nice while you do hard work in and around your home. BLU Dumpsters are equipped with rubber wheels, so they sit on your driveway like a vehicle – no wrecking the asphalt or cement with rusty, heavy, unattractive, industrial dumpsters.
Instead of roll-off dumpsters that scrape and bang, BLU rubber wheel dumpsters are gentle on every surface while still doing the hard work of holding all your garbage.
Difficulties of 30-Yard Dumpster Sizes
The bigger your dumpster gets, the heavier it will be, the harder it will be to situate, and the more room it will take up. A 30-yard dumpster is about 22 feet long and 7.5 feet wide. That's large. These dumpsters are usually taller too, 6 feet or so, which can make people think they're a good choice for hauling bigger items like furniture, but 20-yard dumpsters get the same job done without the bulk.
Perks of 20-Yard Dumpster Sizes
Twenty-yard dumpsters are in the sweet spot when it comes to finding a dumpster rental near me. They are typically 16 feet long and 7 feet wide. At around 5 feet tall, a 20-yard dumpster isn't too obnoxious in appearance but it's big enough to hold all the tall things you might have to get rid of. This size dumpster holds around six pickup truck loads of debris, which saves homeowners a bunch of trips to the local dump or recycling center.
Drawbacks of 10-Yard Dumpster sizes
A 10-yard dumpster is usually 12 feet long and 6 feet wide. Its overall footprint is very small, and reaches only about 3.5 feet high. You can fit about three pickup truck loads in a 10-yard dumpster, which makes this an economical choice if you live in a small space, but not exactly a helpful choice if you have a lot of stuff to unload.
Rent a Dumpster Near Me
When you need a dumpster rental to handle all the overflow at your home, look no further than Michigan's BLU Dumpster. We promise:
Reasonable flat rates
Flexible deliveries and pick-ups
Convenience
Reliability
Clean products
Contact BLU Dumpster today to talk 20-yard dumpsters sizes and more. Find out what's right for your clean-up project.