Driveway Safe Dumpster
Renting a driveway safe dumpster comes with relief – all the debris and junk from your home clean-up or reno will have one place to go, and someone else will take it away for you.
Renting a dumpster also comes with worry, wondering whether that large, metal container will scrape up your driveway and leave a mess behind.
BLU Dumpster rentals are driveway-safe. With rubber wheels and a dedication to customer satisfaction, BLU Dumpster delivers containers that serve your needs, without rubbing off on your driveway.
What Is a Driveway Safe Dumpster?
If you've ever seen oversized metal dumpsters being delivered or hauled away, then you've also heard the clanging and banging and scraping sounds they make as they're moved around. This noise is a major indication that roll-off, steel dumpsters are leaving marks behind. BLU Dumpsters are exactly the opposite.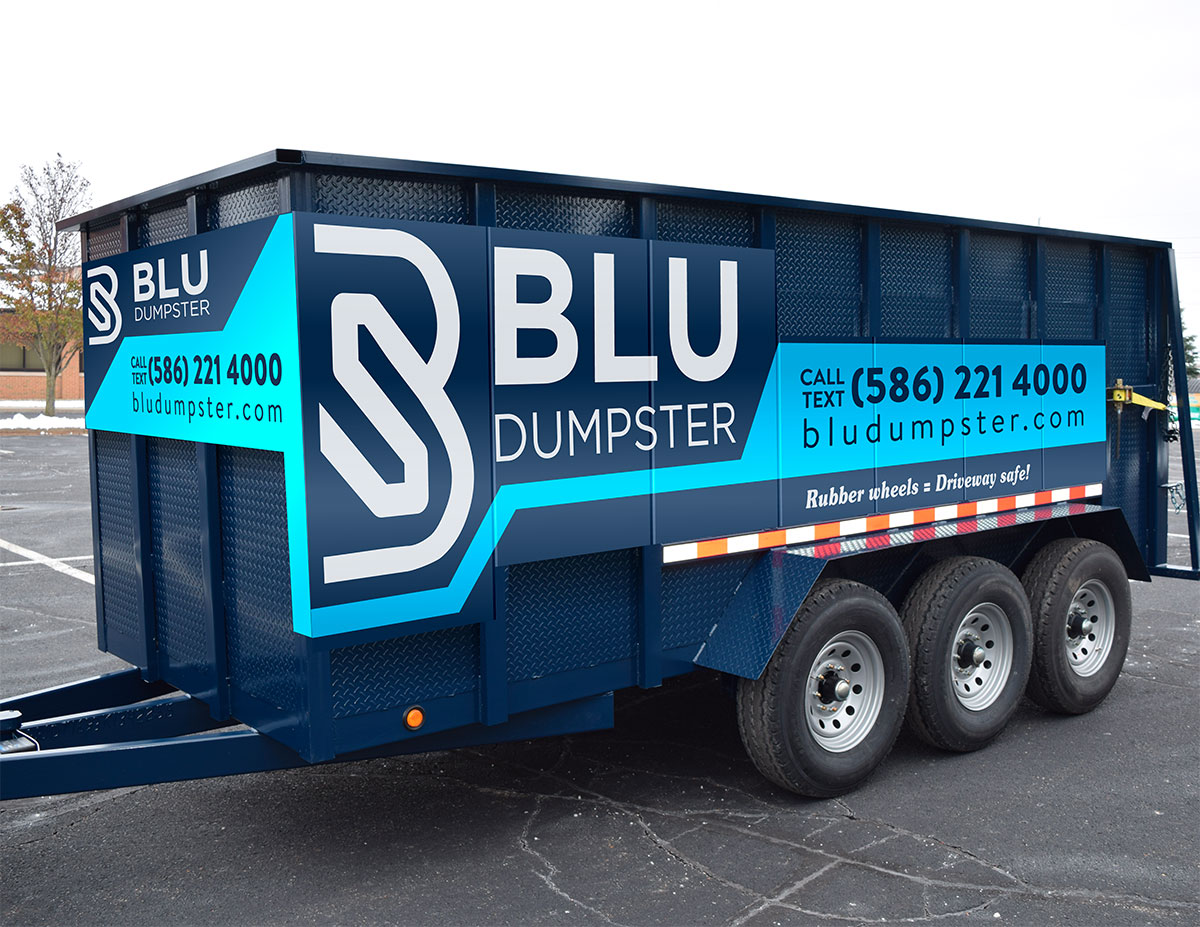 Driveway-safe dumpsters begin with rubber-tires. Clean, sturdy dumpsters equipped with rubber wheels sit easily on your driveway to collect your mess. The tires work just like your car or truck tires – the weight is there, but there is no damage to the surface on which the vehicle is parked.
BLU Dumpsters are situated off the ground, resting on tires just like your car. There isn't any metal that comes in touch with your driveway – it's just rubber tires.
Once the dumpster arrives at the precise location, it is parked carefully – not dropped or dragged – and the wheels are locked to keep the dumpster from rolling. The container sits ready to receive whatever mess you plan to put in it.
Why You Need a Driveway Safe Dumpster Rental
You may have a big home remodel or you've begun a major downsizing. Whatever the reason for your need to toss a ton of stuff, one of the most important factors to consider is the type of temporary dumpster you need to best serve your needs.
The last thing you want is a dumpster that can't fit in a convenient spot at your home, takes up too much space – and damages your driveway. Here is why you need a driveway-safe dumpster rental:
Concrete, asphalt, or brick driveways can crack under the stress and weight of a dumpster.
The weight of the trucks that haul and deliver the roll-off dumpsters can also damage a driveway.
Heavy-duty dumpsters aren't meant for household use – they're too big, way too heavy, and far more likely to cause damage.
You're already smart enough to rent a dumpster for your clean-out needs rather than subject yourself to special trash pick-ups or multiple trips to the dump. Now, choose the dumpster rental that will simply collect your trash and take it away – leaving no marks behind.
Rent a Temporary Rubber-Wheel BLU Dumpster
BLU Dumpster rentals are sleek, easy on the eyes, and nicely sized so they can fit into smaller spaces and give you better access to the dumpster as you throw things away. Professional, clean, and non-imposing, BLU Dumpsters are equipped with driveway-friendly rubber tires, creating a soft platform as the dumpster gets loaded up.
Whatever size your job, a rubber-tire dumpster rental will fit your needs. A temporary dumpster delivered by BLU Dumpsters has many perks, including the following:
Billed at a flat rate
Has scheduled but flexible drop-offs and pick-ups
Clean and attractive dumpsters
Free delivery and pick-up
Convenient and reliable
At BLU, we pride ourselves on a top-quality product and excellent customer service. You shouldn't have to put down wood planks or take other precautions to make room for a dumpster in your driveway. Save yourself the effort of preparing for dumpster rental and the worry of the damage they might leave behind. Choose BLU Dumpsters to rent a rubber-tire, driveway-friendly dumpster to hold all your trash.