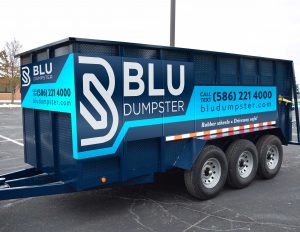 Cleaning out or sprucing up? Rent a dumpster to hold trash, junk, debris, and castoffs.
A temporary, rubber wheel dumpster is perfect for home projects like:
Remodeling
Demolition
Downsizing
Moving
Garage cleanout
Basement purge
Estate cleanouts
Starting or finishing a DIY project? Tidying up in a big way? Rent a cheap dumpster in the size you need to hold all your garbage.
Get the Dumpster Size You Need at a Flat Rate
Contact Blu Dumpster for a free quote. We'll need to know:
The types of items you're throwing out
Approximately how much you're throwing out (How many pick-up truck beds could you fill with your stuff?)
The space where you want to park your dumpster
How long you need the dumpster rental
Dumpsters don't have to be ugly, messy, smelly, or enormous. Pretty up your home with the convenience of a truck-hauled, rubber-tire, temporary dumpster rental.
Schedule Your Blu Dumpster Dropoff Today
Trash bags only hold so much.
You can't fit everything in your trash collection.
The trash trucks won't take what you set at the curb.
You don't have a vehicle you can load up with junk for a trip to the dump.
Make your big household job a little easier. Make cleaning out something you look forward to.
We deliver a dumpster to any spot you want. You fill it up. We haul away your junk when you're done.
Call now for a dumpster rental price
Blu Dumpster Rental has:
Flat rates
Scheduled drop-offs and pick-ups
Flexibility if you want your dumpster gone sooner or need it longer
Clean dumpsters that aren't an eyesore
Searching for Dumpster Rental Near Me
We have Dumpster locations across Michigan
Dumpster Rental in Sterling Heights
Dumpster Rental in St Clair Shores
Blu Dumpster delivers – when and where you need us. Learn more about BLU Dumpsters.
Call today for a quote on a dumpster delivery for your project.