Dumpster Rental for Home Renovation
Home renovations of every size produce a great deal of debris, more than you would have even thought possible.
Whether you're tearing out cabinets or drywall, sinks or carpeting, a dumpster rental for a home renovation is a practical choice for homeowners. Rent a BLU Dumpster to hold the mess from your home renovation, so you can keep the rest of your house clean and tidy.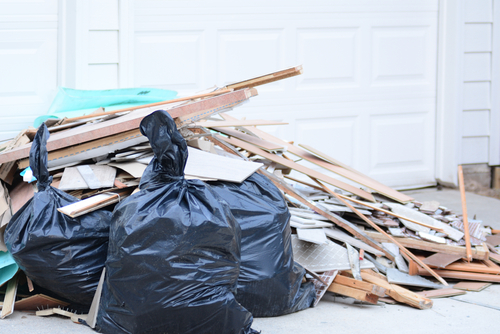 Choose the Right Size Dumpster for a Home Reno
There are small dumpsters, medium dumpsters, and large dumpsters. If your think your home remodel is small, chances are good it will end up being larger than you think. A 20-yard dumpster is the optimal size for a mid- to large-size home remodel, allowing room for both weight and volume so you get the most for your investment. Twenty-yard dumpsters are 16 feet long, 7 feet wide, and 5 feet tall. They can hold about six pickup-truck loads of debris.
Parking Your Home Remodel Dumpster
Even a 20-yard dumpster takes up space, so you must consider where you're planning to park your dumpster rental before it arrives.
If need to have your dumpster on the street, do your homework about permits through your township, city, or homeowner's association.
Ideally, you will have your dumpster rental parked as close to your home as possible – in the driveway. It's much simpler to toss your demolition materials into an easy-access dumpster than trudge out to the street.
Benefits of a BLU Dumpster During a Home Remodel
When you do a home renovation, you want the job to wrap up neatly. You certainly don't want a messed-up driveway left behind by a dumpster after the job is complete. Don't worry about BLU Dumpsters leaving a nightmare in their wake. These rental containers are:
Equipped with driveway-friendly rubber tires.
Sleek and ideal for small spaces.
Parked carefully, never dropped or dragged.
Designed with sturdy locking wheels to prevent rolling.
Attractive and clean.

BLU Dumpsters are just the right size for home cleanup needs. They're easy on the eyes, non-imposing, and – most of all – temporary.
If you want a pretty dumpster during your home renovation, a BLU Dumpster is as close as you'll get. It's as blue as can be, and it will look nice in your driveway, holding all the castoffs from your home renovation.
BLU Dumpster Hauls What the Trash Trucks Won't
You'll look forward to your home renovation when you have a BLU Dumpster parked outside ready to hold the debris. There won't be any unsightly piles of demolition materials in your yard, waiting to be hauled to the dump or sullying the neighborhood.
In most communities, residents are not permitted to put out construction materials for the regular trash service, like lumber, plaster, or metal. Special pick-ups are always an option, but that's just one more thing to do amid a home renovation.
Save yourself trips to the dump or recycling center. Choose a BLU Dumpster to hold the castoffs from your home renovation.
The BLU Dumpster Experience
BLU Dumpster is dedicated to complete customer satisfaction, and we guarantee the highest level of service by offering the following perks:
Flexible drop-offs and pick-ups
Flat rate pricing
Free delivery
Free pick-up
Built-in disposal fees
Choose an attractive dumpster for your home remodel. Make your big job a little easier. When you decide to "rent a dumpster near me," choose BLU. Just tell us when and where you want your dumpster and we'll be there.
Contact us today for dumpster rental for home renovation in Michigan.